Paula's pie was a success. It's just too bad my crust decorations weren't quite up to par... let me tell you what I'm talking about.
I got over-ambitious when preparing our pie and decided to add a little decor.
First, I decided to add a some festive holly:
So far, so good. I think I'll make a turkey. A
pilgrim
turkey!
Yikes. Is it obvious this started off as a baby bird? I decided that looked a little too Spring-ish, though, thus the turkey transformation.
All was (fairly) fine and well...
Until I popped it into the oven and realized: I should have baked the topping decorations separately. But it was just too late.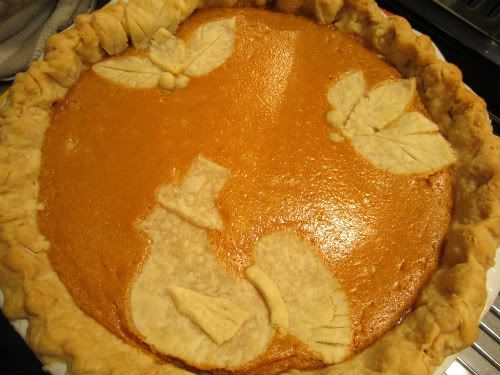 So it really could have been worse, but as you can see, many of my painstaking details were lost. As the pie expanded, the unbaked crust did not. It didn't get that nice golden crispness that the rest of the crust has. In a perfect world, I would've baked the hollies and turkey on a baking sheet and placed atop the pie once both were baked fully.
You can also notice some sinkage:
Anyway, I don't mean to undermine the deliciousness of
Paula's Pumpkin Pie
. It's a cross between cheesecake and pumpkin pie, which gives it a nice richness you pumpkin pie-phobes might desire, while adding a special savory element to the classic version. And, of course, the
perfect pie crust
worked like a charm.
We had a great time visiting our family, nonetheless! We had a beautiful and delicious meal prepared by my Aunt, and even celebrated three special birthdays. Good thing we didn't actually put 91 candles on the cake...
Hope you had a happy Thanksgiving too! Dixie sure did and she's still recovering from our big touch-football game last Friday.
Rough life!
*Addendum* Please note my BFF Emily's masterpiece:
Now we're talking!
**Addendum 2** no fair using cookie-cutters/do we have the same
Emile Henry Auberge Pie Dish
?? LOVE! I am working my way to a complete set of the line :)